Amieira do Tejo castle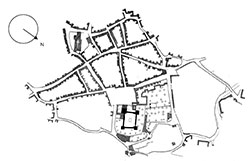 Map of Amieira do Tejo with the castle.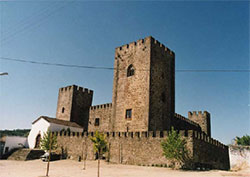 Amieira do Tejo castle. Photo: DGEMN.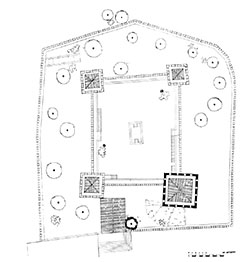 Plan of Amieira do Tejo castle.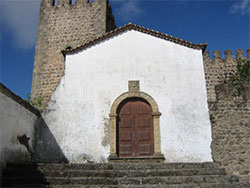 Frontispiece of John the Baptist chapel.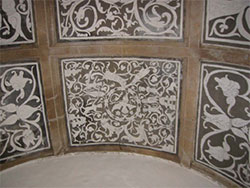 Vaulted ceiling of John the Baptist chapel.
Amieira do Tejo stands in the long and ancient defensive line of castles along Tejo river, in Portalegre district, about 14 kilometers from the village of Nisa; due to its characteristics and historic importance it was classified as National Monument in 1922 and as Military Monument in 1923.
Álvaro Gonçalves Pereira, a warrior monk and Prior of the order of the Hospitallers, built this imposing fortress between 1350-1360; its construction shows the importance of the place as a defensive aim and also the increasing power of the Order of Hospital, to whom king Sancho the first donated a large piece of territory comprehending lands in both sides of the river. The Castle of Amieira do Tejo is usually considered as a sophisticated example of early gothic military architecture, with its regular, geometric plan, four towers on each angle - being the donjon tower the tallest. It is surrounded by a barbican (a lower wall that encloses the precinct for defensive purposes) and has a central square ward with a 15th century stone masonry cistern. The main entrance is made through a gate opened in the barbican in 20th century, replacing a previous door in the same place, still represented in Tinoco's 1620 drawings. Each tower has decorated gothic windows, small vertical openings and entrance doors connecting to the wall walk.
In 1566, when military needs were already less demanding, a chapel was added in the east side of the barbican, dedicated to John the Baptist and quite remarkable for its vaulted ceiling entirely decorated with rare sgrafitto ornaments, depicting geometric, hybrid and fantastic Manneirist motives.
During 16th century, defensive functions of the castle were gradually abandoned, thus giving place to decay and neglect. Since its classification, the castle suffered several restoration campaigns. The major works took place in 1950, and responded to the theories of that period, which enhanced the medieval period as being the most representative of past glories. By then, the major works consisted essentially on the demolition of 19th and 20th century graves – since the castle was used as a graveyard during that period – the destruction of some ruined buildings erected next to the wall during previous centuries, and the rebuilding of the barbican. The main tower also suffered some works, as the reconstruction of the roof (which was already dismantled at least since 18th century), building new accesses, floors and inside stairs, and repair of the path throughout the walls.
References
Boletim da Direcção-Geral dos Edifícios e Monumentos Nacionais, 61, 1950.

Botto, Margarida, Castelo de Amieira do Tejo, Guia, Lisboa, IPPAR, 2001.

Cid, Pedro, Castelo de Amieira do Tejo. Estudo para Monografia do IPPAR. Recolha documental e Sinopse do texto. Agosto de 2004.

Cristian, Ana; Veiga, M. Rosário, Ensaios sobre rebocos antigos da Capela de São João Baptista, em Amieira do Tejo, Relatório LNEC, Abril de 2005.

Lopes, Ana Sofia, "Conservação e restauro dos esgrafitos e pinturas murais do Castelo de Amieira do Tejo", Estudos - Património, 10, 2007, pp. 155-162 | pdf

Monteiro, Patrícia A. R.; Simões, João M. – Relatório de sistematização sobre a Sé de Évora, a antiga Sé de Elvas, a Igreja Matriz de Mértola e o castelo da Amieira – IPPAR, 2006.

Pereira, João Nasi, "Amieira: o regresso ao futuro", Estudos - Património, 10, 2007, pp. 163-166 | pdf

Santos, Heloísa Valente dos; Falcão, Tânia Maria, "Castelo de Amieira: diálogos entre a arqueologia, a arquitectura e uma certa arqueologia sentimental", Estudos - Património, 10, 2007, pp. 148-154 | pdf

Sousa, Tude; Rasquilho, Vieira, Amieira do antigo Priorado do Crato, fac-símile da edição de 1936, Lisboa, Imprensa Nacional – Casa da Moeda, 1982.

Wevers, Leonardus, Castelo de Amieira do Tejo. Levantamento no âmbito da arqueologia da arquitectura, estudo apresentado ao IPPAR em Maio de 2005.

Wevers, Leo, "Castelo de Amieira do Tejo. Levantamento no âmbito da arqueologia da arquitectura", Estudos - Património, 10, 2007, pp. 133-147 | pdf

Related publications
Cruz, T.; Santos Silva, A., Caracterização de argamassas da Igreja de Nossa Sr.ª da Assunção (Elvas) e do castelo da Amieira do Tejo (Nisa), Relatório LNEC 215/06-NMM, 2006, 113 pp. | pdf
Botto, Margarida Donas, "O Castelo de Amieira do Tejo – enquadramento histórico e razões de uma intervenção", Estudos - Património, 10, 2007, pp. 125-132 | pdf
Links